2021-03-29
Luxembourg pavilion at EXPO 2020 DUBAI takes shape
Over the past few months, the construction of the Luxembourg pavilion has made great strides.
During the last weeks, construction workers have been fixing the tensioned membrane on the steel construction.
The pavilion is taking shape and the final shape is becoming more and more apparent, inspired by the Möbius ribbon.
This form, which symbolizes the circular economy, but also the dynamism and openness of the country, makes the Luxembourg project one of the most ambitious of the EXPO.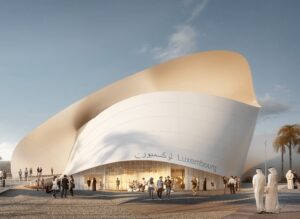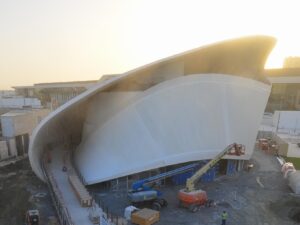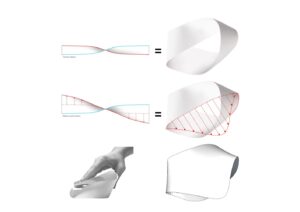 Delivery of the slide
Recently, one of the most characteristic elements of the pavilion was delivered to the construction site: the slide.
Among the 192 pavilions that the EXPO will include, the grand-ducal pavilion will be the only one to have a slide, a nod to the tradition of the Schueberfouer.
After discovering the first four parts of the scenography along an ascending ramp, the visitor will have the possibility to choose to go down the stairs or more playfully by a toboggan.
Arriving at the bottom, he will find himself in an open-air atrium where he will discover the nature and the landscapes of the country.
Work on the scenography
Work on the scenography is also well underway. As a reminder, the scenography will tell through five themes («diverse», «connecting», «sustainable», «enterprising» et «beautiful») where Luxembourg comes from, what it is today and where it wants to go.
The pavilion should soon be 100% complete, well in time for the official opening of the EXPO.
Come visit us in Dubai from October 1st 2021 and discover both the breathtaking architecture and the contents of the pavilion.
See you in Dubai for an unforgettable experience!