2021-10-20
Meet the sponsors: Guardian Glass
Collaboration with multiple partners key to project success.
Glazed façade offers optimum comfort and energy efficiency using locally-produced glass.
 Al Jubail, Saudi Arabia, September 28, 2021 – Guardian Glass has supplied glass for the façade and glass interiors for the Luxembourg Pavilion at EXPO 2020 Dubai.
By working closely with other project partners including the project owner, architect, general contractor, aluminum fabricator and glass processor, Guardian Glass was able to understand their vision for the building, as well as define their exact needs and challenges. This allowed Guardian Glass to select the most suitable glass products for the façade and interiors.
For the building's façade, Guardian Glass supplied a locally produced product, Guardian SunGuard® SN 60T, a coated solar control glass, which provides the right combination of daylight, solar protection, and thermal insulation. This combination provides optimum comfort for visitors while improving the energy efficiency of the building and reducing the need for air conditioning.
Guardian Clarity™ anti-reflective glass was the natural choice for the interior glass that divides the kitchen and the rest of the pavilion building. The 'invisible glass' drastically reduces reflections while increasing light transmission, allowing visitors to get close to the kitchen and enjoy clear unobstructed views of the chefs preparing the rich gastronomic Luxembourgish meals.
"We were careful in proposing the right glass products that are in line with the project's vision, which consists of presenting Luxembourg as a resourceful, sustainably aware country, while at the same time, ensuring that visitors and staff at the pavilion will experience high levels of comfort.
The primary challenge was to ensure that all materials were available on time as the construction schedule was tight due to COVID-19 pandemic conditions. We were working with our local partners in the UAE who held specified products in stock, which enabled a successful, on-time installation of the glass façade and interiors," commented Jasmin Hodzic, Marketing Director for Africa & Middle East (AME) at Guardian Glass.
Collaboration with different partners was absolutely vital to the success of the project.
From an early stage, Guardian Glass teams were involved in supporting and offering solutions to the entire value chain, which included the project owner (Luxembourg), architect GG Kirchner (Metaform), general contractor Nussli (Mr. Claus Kruppa), aluminum fabricator NextLevel (Mr. Sayed Kamel) and glass processor Future Architecture Glass.
Guardian Glass provided its technical expertise during meetings with the main architect, Luxembourgish pavilion management, and general contractor, which helped define the right products for the project. Guardian Glass acted as a 'network enabler', helping to find the right project partners and connecting them together to provide the finished products.
AME represents a dynamic, fast-developing region with young and progressive nations. Guardian Glass is providing architectural glass solutions and sharing its global knowledge through locally-based experts and assets.
With the recent investment in the GulfGuard production plant, Guardian Glass is demonstrating its commitment to support the region's development and need for state-of-the-art glass solutions produced locally.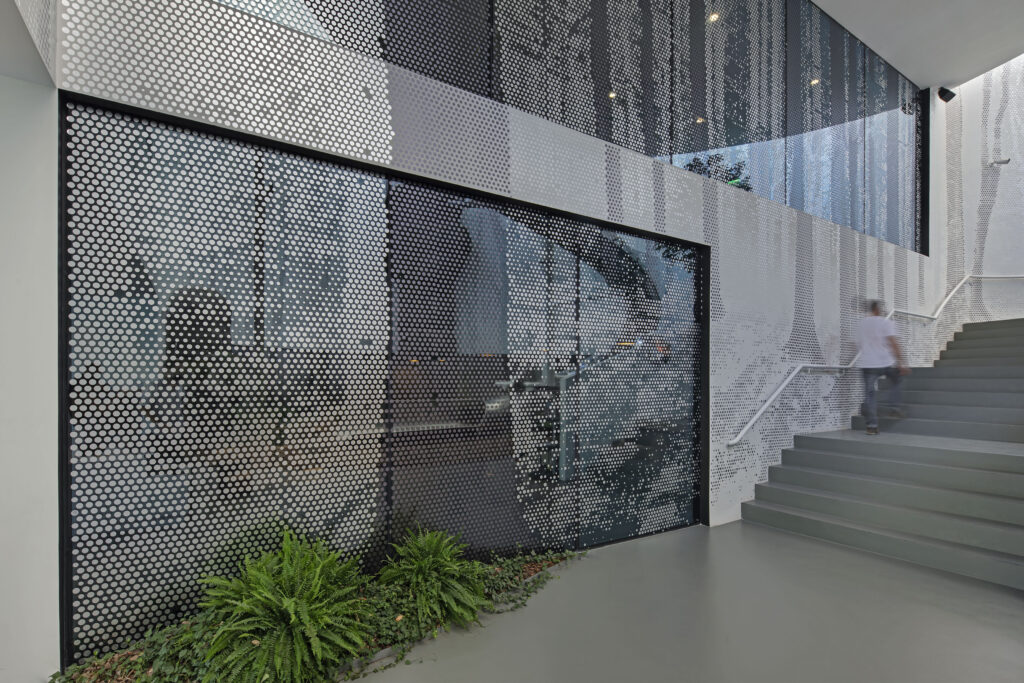 Guardian Glass
Guardian Glass, a major business unit of Guardian Industries, is one of the world's largest manufacturers of float, coated, and fabricated glass products. At its 26 float plants around the globe, Guardian Glass produces high-performance glass for use in exterior (both commercial and residential) and interior architectural applications, as well as transportation and technical products. Guardian glass can be found in homes, offices, cars, and some of the world's most iconic architectural landmarks. The Guardian Glass Science & Technology Center continuously works to create new glass products and solutions using the most advanced technology to help customers See what's possible®.
Guardian Industries
Guardian Industries, a global company headquartered in Auburn Hills, Michigan, operates facilities throughout North and South America, Europe, Africa, the Middle East, and Asia. Guardian companies employ 15,000 people and manufacture high-performance float glass; coated and fabricated glass products for architectural, residential, interior, transportation, and technical glass applications; and high-quality chrome-plated and painted plastic components for the automotive and commercial truck industries. Guardian's vision is to be a preferred partner to our customers, suppliers, employees, and communities based on a foundation of mutual benefit. This drives our relentless focus on improving people's lives by providing products and services they value more highly than their alternatives and doing so responsibly while consuming fewer resources. Guardian is a wholly-owned subsidiary of Koch Industries, Inc.
Source: Guardian Glass
---