2020-07-01
The Luxembourg pavilion at EXPO 2020 DUBAI takes shape
Despite the postponement of EXPO 2020 DUBAI, the construction of the Luxembourg pavilion is progressing rapidly.
The analysis of several scenarios showed that the best solution in terms of costs and budget was to complete the construction work as quickly as possible.
The Luxembourg pavilion will be completed at the beginning of 2021. The building will then be secured until the official opening on October 1, 2021.
Luxembourg was the first country to sign the participation contract and since the shovel ceremony on a completely flat sandy ground, the shape of the pavilion, inspired by the Möbius ribbon, is beginning to be perfectly visible.
Despite the COVID crisis and the drastic measures to ensure the safety and health of workers on the Expo site, the Luxembourg@EXPO2020Dubai team managed to meet the construction deadlines.
Thus, the steel structure is almost finished. All the steel used comes from ArcelorMittal, the world's largest steel producer, based in Luxembourg and a sponsor of Luxembourg's presence at EXPO 2020 DUBAI.
Once completed, this structure will be complemented by a secondary steel structure, on which can then be fixed the membrane that will give this unique character to the ambitious architecture of the Luxembourg pavilion.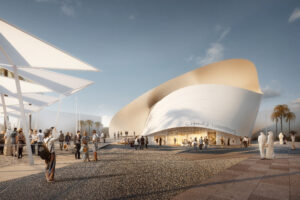 At the same time work could will be able to be carried out inside the pavilion, including the slide, but also the scenography, staging the different facets of the Grand Duchy.
You can follow the construction progress in real time on our "construction" page.