2019-10-24
Gastronomic Luxembourg in Dubai
Luxembourg will participate in the EXPO 2020 DUBAI, which will take place from 20 October 2020 to 10 April 2021 in Dubai, United Arab Emirates.
The programming of the Luxembourg participation will also include a broad section dedicated to gastronomy, with the aim of promoting Luxembourg's excellence in this field.
The «gastronomy» section was developed in collaboration with representatives of the Horesca, Eurotoques, the Vatel Club, the Lycée technique de Bonnevoie, the Institut viti-vinicole and the Ecole d'Hôtellerie et de Tourisme du Luxembourg (EHTL).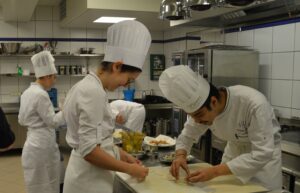 As a key player in the hotel and tourism sector, the EHTL was chosen to develop the culinary concept and the related exploitation project.
Under the name of "Schengen Lounge", the restaurant will occupy a privileged position on the ground floor of the pavilion.
The kitchen will be transparent to allow visitors and customers to see the cooks at work.
The restaurant will offer not only traditional Luxembourg cuisine, but also cuisine with different international influences, like the country's restaurants. All dishes will reflect Luxembourg and its cultural diversity.
Concerning the catering and visitor support services, the EHTL will allow some of its students to work in the pavilion, in addition to the resources provided by a local service provider.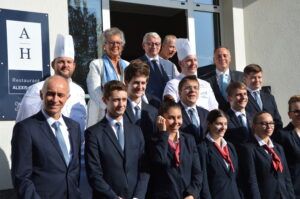 A total of 36 students will be able to put into practice their knowledge acquired during their studies at EHTL.
The young people will be mentored on site by three EHTL teachers, as well as 28-year-old Kimkevin De Dood, a Michelin-starred Luxemburgish chef at Saint Pierre Kuala Lumpur and a former EHTL student.